Honey Roasted Carrots and Chickpeas with Lemon Yogurt Sauce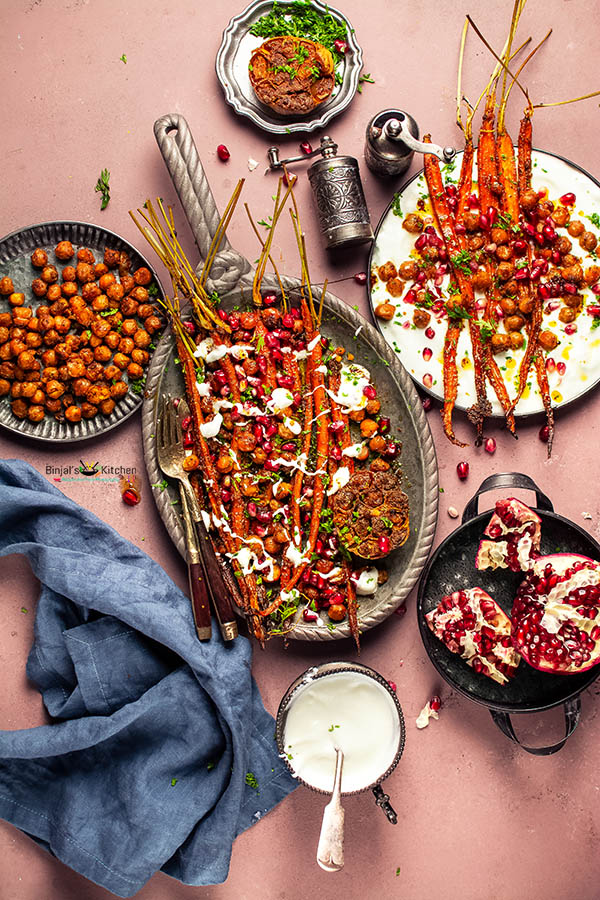 7-8 Baby Carrots
1 Can Chickpeas
2-3 tbsp Olive Oil
2 tbsp Honey
½ tsp Smoked Paprika
1 tsp Harissa Spice Mix
1 tsp Cumin Powder
1 tsp Coriander Powder
1 tsp Ground Pepper
1 tsp Salt
1 Head of Whole Garlic (cut into Cross)
For Lemon Yogurt Sauce
2 cup Yogurt
½ lemon Juice
1 Garlic Clove Finely Grated
½ tsp Ground Pepper
Salt as Per Taste
For Garnishing
1-2 tbsp Chopped Parsley or Coriander leaves
¼ cup Pomegranate Arils
Pinch Of sumac Seasoning(opt.)
First, preheat the oven on 400F/200C.
Scrub and wash the carrots, then trim the leafy part and wipe with paper towel.
Cut it length wise into half and keep aside.
Rinse and drain the chickpeas and keep aside.
In a small bowl add all the remaining ingredients, then mix it well.
Arrange the carrots, garlic, and chickpeas on baking sheet.
Pour the prepared spice mixture over it and mix it with spoon or hand till all side coated well.
Place the baking sheet into the preheated oven, then roast it about 30-35 mins. Check in between while roasting and just stir it with spoon to upside down.
Now, Honey Roasted Carrots and Chickpeas is ready for serve.
For Lemon Yogurt Sauce: In a bowl whisk the Yogurt, add lemon Juice, grated garlic, ground pepper, cumin powder, salt and mix it well.
Now arrange the roasted carrots and chickpeas in a serving plate.
Spread lemon yogurt sauce and garnish with chopped parsley, pomegranate arils and sprinkle sumac seasoning and serve as a side.
You can spread yogurt sauce first in serving plate and arrange carrot and chickpeas over it and garnish.
You can use maple syrup instead of honey.
Instead of sumac you can use mix of paprika, cumin and salt.
For vegan, use coconut yogurt instead of dairy.
Instead of Harissa you can use Zaatar spice blend.
Recipe by
Binjal's VEG Kitchen
at https://binjalsvegkitchen.com/honey-roasted-carrots-and-chickpeas-with-lemon-yogurt-sauce/