Zarda Pulao or Meethe Chawal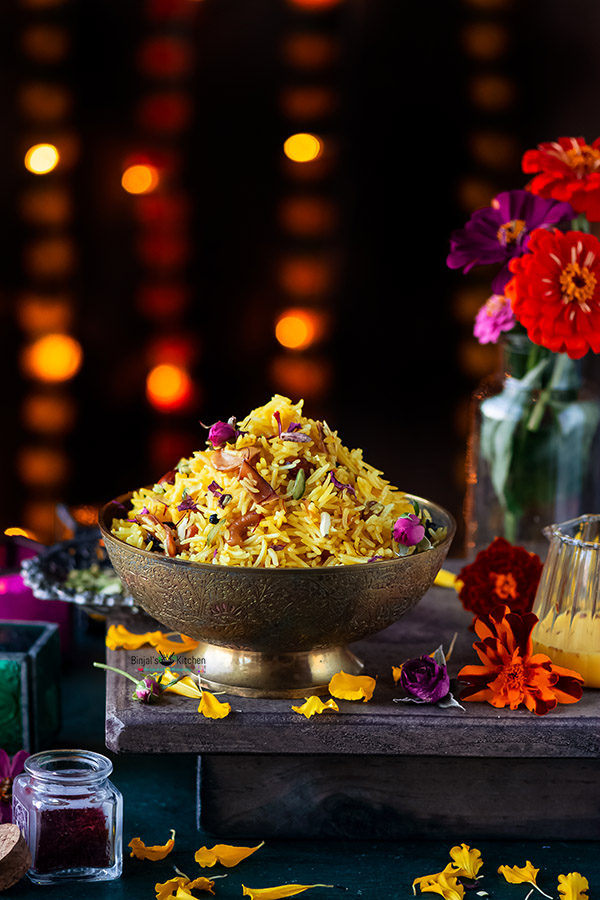 2 cup Basmati Rice (used Royal Basmati Brand)
¼ tsp salt
¼ tsp Turmeric(opt.)
½ cup Whole Milk
5-6 Threads of Saffron
¼ cup Sugar
¼ cup Ghee Divided
¼ cup Slivered Almonds
¼ cup Cashew nuts
½ cup Dry Coconut Slices
2 tbsp Raisins
3 Big cardamoms
2 Star anis
1 small Stick of Cinnamon
3-4 Green Cardamom Crushed
5-6 Peppercorn
1 tbsp Rose water(opt.)
For Garnishing
1 tbsp Slivered Pistachios
Few Dried Rose Petals
Wash and soak the basmati rice for 20-30 mins.
In a small bowl add milk and saffron and keep aside.
Heat 5-6 cups of water in a pan with salt and turmeric. Once it comes to boil, add the soaked rice, and cook further till the rice is about 70% cooked.
Strain the excess water and keep aside
Heat the 2 tbsp ghee in a heavy bottom pan. Add slivered almonds, coconut slices, cashews, and raisins and roast till golden, remove it into the bowl and keep aside.
In the same pan add remaining ghee. Once heat enough add big cardamom, star anis, small Stick of Cinnamon, Peppercorn and roast it for few seconds.
Add cooked rice, then add saffron soaked milk, sugar, crushed green cardamom, rose water, and mix it well.
Cover it and let it cook on low flame about 8-10 mins. Mix roasted dry fruits in sweet, cooked rice.
Garnish it with rose petals and sliced pistachios and serve.
You can skip rose water if you don't have it.
You can cook rice directly with spices in the same pan, and later add saffron and sugar.
You can use food color instead of turmeric or skip it.
Add jaggery instead of sugar if you like it.
Add grated ½ cup Khoya/Mawa with milk and sugar for rich taste.
Recipe by
Binjal's VEG Kitchen
at https://binjalsvegkitchen.com/zarda-pulao-or-meethe-chawal/