10 Minutes Microwave Cheesy Broccoli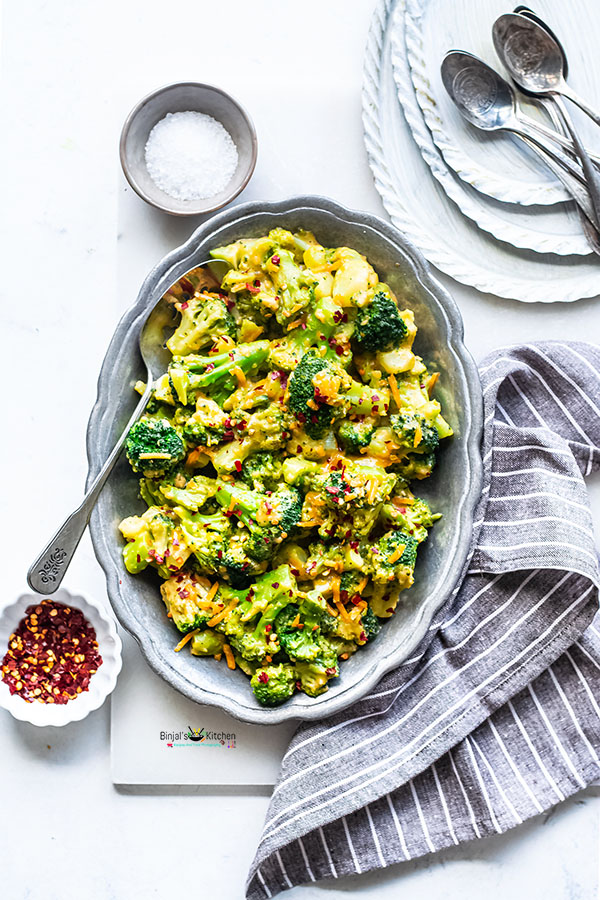 Ingredients
4 cup Broccoli Florets Fresh or Frozen
2tbsp Water
½ tsp Salt
¼ tsp Ground Pepper
For Sauce
1 cup Milk
2 tbsp Butter
2 tbsp Flour
1 tsp Minced Garlic
¼ tsp Onion Powder
¼ tsp Ground Pepper
1 cup American Process Cheese Cubed in Small Pieces (Velveeta)
½ tsp Red Pepper Flakes for Top
¼ cup Grated Parmesan for Top
Place the broccoli florets in a glass bowl, add water, sprinkle salt and pepper. Cover with a lid or plate or plastic cling wrap.
Cook the broccoli in a microwave on high for 5-6 mins.
In the meanwhile, you can start preparing the Sauce.
For sauce
Take a saucepan, add milk, butter, flour, and mix it well, make sure no lumps.
Add garlic, onion powder, ground pepper and cheese.
Cook on a stove on medium heat, stirring continuously for about 4 mins until smooth pourable texture.
Now pour the prepared sauce into the microwaved broccoli and mix it well.
Sprinkle parmesan and red pepper flakes on the top and serve it.
You can also add veggies like cauliflower, carrots, onion, etc.
Use Mac and Cheese sauce instead of American cheese or mix of cheddar, Monterey jack and parmesan.
Recipe by
Binjal's VEG Kitchen
at https://binjalsvegkitchen.com/10-minutes-microwave-cheesy-broccoli/