No Bake Thandai Cheesecake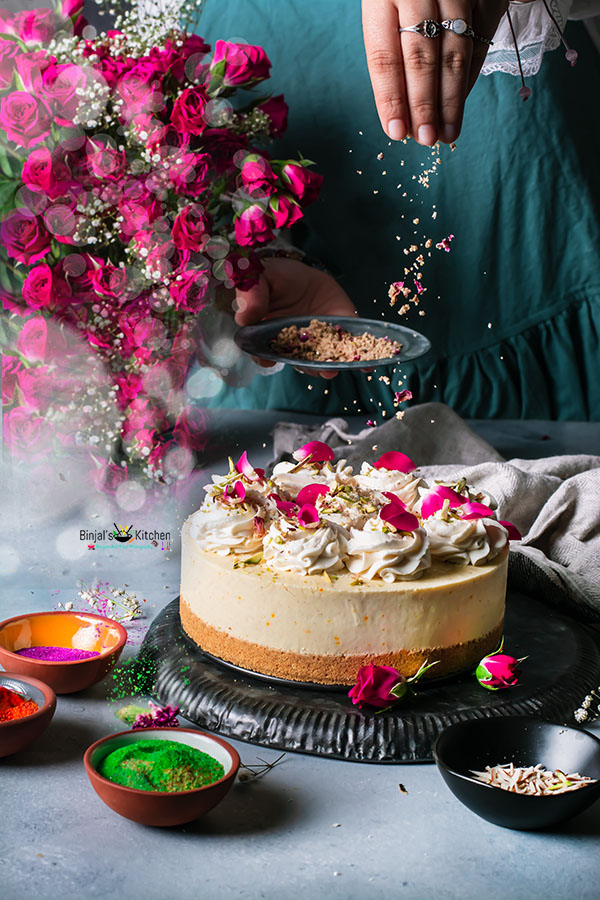 For Base
•2 cups Graham Cracker Crumbs
•½ cup Melted Ghee/Butter
•¼ tsp Cardamom Powder
For Filling
•4 cup Whole Milk Yogurt
•2 cup Shredded Paneer
•1 cup Heavy Whipping Cream
•½ cup Sugar
•2 tbsp Thandai Masala
•2 tsp Agar Agar or Gelatin Powder
•½ Milk
•5-6 Threads of saffron
For Topping (opt.)
•1 cup Fresh Whipped Cream/Malai
•½ cup Powder Sugar
•½ tsp Vanilla Extract
•1-2 tsp slivered Almond & Pistachios
For Base
Mix cracker crumbs, ghee or butter, and cardamom powder in a mixing bowl.
Pour the mixture into the 10-inch spring foam baking pan.
Make a tight flat surface by pressing it with a small bowl or cup.
Place it in the freezer to set or until the filling is ready.
For Filling
Pour the yogurt into the cheesecloth or muslin cloth and hang it or press it for 3-4 hours to extract the whey.
Soak the saffron threads in the milk.
Blend the hung yogurt, shredded paneer, heavy whipping cream, sugar, and heavy whipping cream together until smooth.
After heating the saffron milk, add the agar-agar powder and mix well.
Add Thandai masala to the blended mixture and blend again.
Pour the mixture over the prepared base and freeze it for about 4-5 hours or overnight.
The Thandai cheesecake is ready now.
Topping
Mix cream/malai, sugar, and vanilla extract in a bowl. Use a wire whisk and make it light and fluffy.
Fill the whipped cream into a piping bag and top the cheesecake.
Sprinkle some slivered pistachios, almonds, and Thandai masala on top and serve.
You can substitute digestive biscuits for graham crackers.
Instead of whole milk yogurt, you can use Greek yogurt.
The topping is optional, you can simply scatter over some slivered almonds and pistachios.
Before serving, let the cheesecake sit outside for at least 30 minutes.
Recipe by
Binjal's VEG Kitchen
at https://binjalsvegkitchen.com/no-bake-thandai-cheesecake/