Almond Cookies (Nankhatai)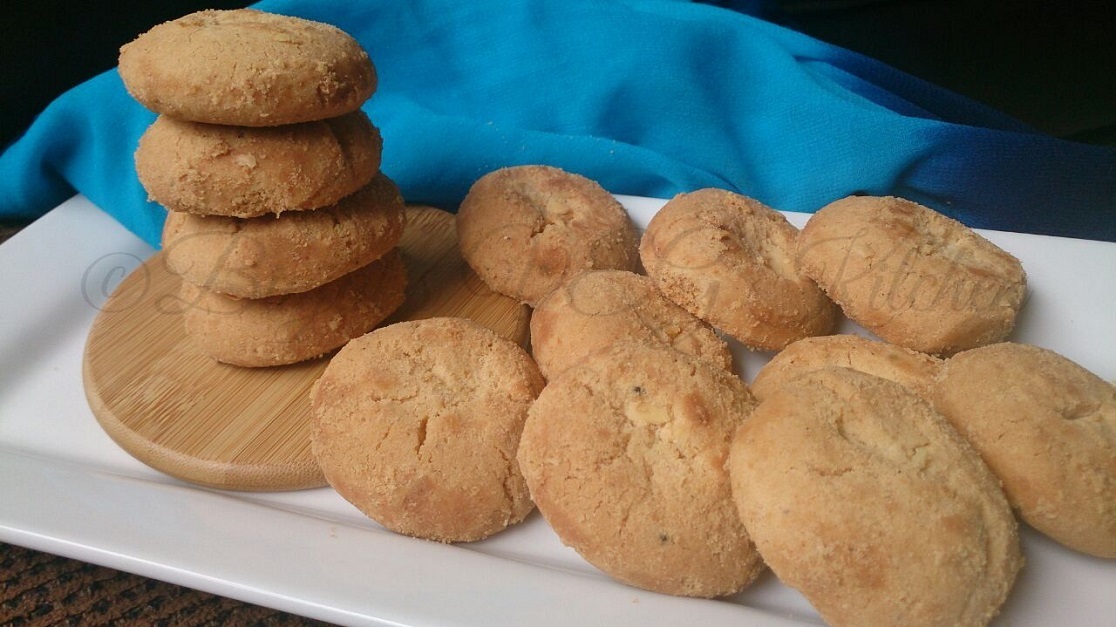 1 cups all Purpose Flour (Maida)
1 cup whole Wheat Flour
1 tbsp Besan/Gram Flour
1 cup powdered Sugar
½ cup Butter
2 tbsp Baking Powder
3 tbsp Milk Powder
½ tsp Cardamom Powder
½ cup crushed Almonds
Preheat the oven to 350 degree F.
Grease the baking tray with butter and dust with flour and keep aside.
Take a bowl; add all three flours, baking powder, cardamom powder and milk powder and mix well set aside.
Beat the butter and sugar in a separate bowl till it is light and fluffy. Add the flour mixture into this and whisk again, in the same direction until it is smooth. Finally add the crushed almond and mix well. (Remember, this will not be as liquid as your cake dough, Cookie dough is supposed to be firmer so that it can easily form shapes.)
Now take some oil and grease on your palms. Divide the dough into small small ball and form a circular shape with your palms. Keep pressing the edges to form a smooth cookie.
Make all the cookies in same process and arrange on the baking tray.
Bake them for 10-15 mins or till slightly golden brown. Do not over bake. Remove from the oven; let them cool down on cooling rack to room temperature.
Almond Cookies (Nankhatai) is ready to melts in your mouth.
You can store them in an air-tight container. Savor these simple and delicious Almond Nankhatai!!!
Recipe by
Binjal's VEG Kitchen
at https://binjalsvegkitchen.com/almond-cookies-nankhatai/